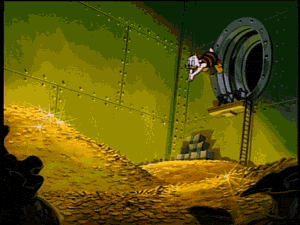 The first time I remember anything about money was when I overheard my mom and gram talking about our finances and how there was just not enough to pay the bills. I was in preschool. Though I did not understand budgets or cash flow, I felt their anxiety and stress. I promised myself I would do whatever it took to become a millionaire so there would always be enough and I would not have to spend my life worrying. (And I could swim in gold like they did in my favorite cartoon!)
Soon after I became a Christian, I started my first part-time job. When I received my first paycheck, the first check I wrote was to my church. I was thrilled to be investing in something bigger than myself but I also believed that if you gave to God, God would give more back to you. Since there was not enough to go around, I needed to give to God so God would have my back. I was still at the center of the equation and a sense of scarcity was my constant companion.
In recent years, God has dragged me into a different understanding about giving and money. My ethics professor Dr. Scott Bader-Saye taught me that the spiritual life is a journey that transforms us into "the kind of people who can participate in the kingdom of God." The words of the prophets and the final chapters of Revelation reveal a vision of God's kingdom in which there is no more sadness, sickness, scarcity, injustice or hunger. There is more than enough and everyone flourishes. In fact, the kingdom of God seems to operate on a completely different economic system than the world. Jesus turns water into the finest wine so a newly married couple can save face at their reception. When there are only five loaves of bread and two fish, no one goes hungry but there is more than enough to satisfy every need. And the center of our earning, giving and receiving is not ourselves, our skills, our degrees or our jobs, the source of all good things is God, who creates all that is and gives only good gifts to his children.
At its best, the church is the community that forms people for the kingdom of God and participates in the divine economy of generosity. In just over two months here, I have witnessed first-hand how Saint Andrew's and The Episcopal Diocese of Texas are helping all kinds of people flourish:
Our first of many groups went to Houston recently to muck out a house flooded by Hurricane Harvey and our congregation gave over $6,500 for Harvey relief

Every month, people from St. Andrew's volunteer their time and give food to the Church Pantry, which gives groceries to people having a hard time

Father Daryl is leading conversations with other faith leaders and city leaders to find innovative solutions to the affordable housing crisis in Bryan/College Station

Small groups have been walking the Neal Elementary neighborhood to meet our neighbors and learn more about our neighborhood

We have built meaningful relationships with a couple of chronically homeless people in downtown who are joining us for worship and fellowship on Sundays

Our children are finding their place in God's story through Godly Play on Sunday mornings

We have sent a group to Navajoland for the last six summers in order to support their Episcopal church and minister to the native peoples

We have a powerful partnership with Neal Elementary School, where we sponsor the Neal Scholarship Program, mentor and read to students and host an English as a Second Language (ESL) course for parents

We gather on Sundays, Wednesday nights and every morning to pray, worship, fellowship and encounter God together
Last weekend, Heather and I read through the church's stewardship packet and filled out our 2018 pledge card. I am as excited to be part of St. Andrew's future as I was when I wrote my first offering check. Not because I think such giving means God will bless my socks off but because St. Andrew's is doing God's work, helping people flourish and pointing to the fullness of God's kingdom. And I definitely want to be part of that.
You can be part of what God is doing through St. Andrew's to help the Brazos Valley flourish by submitting your pledge card to the church on Sundays or completing your pledge card at https://www.standrewsbcs.org/give/annual-pledge/. I would also invite you to ponder these questions about your own relationship with money:
How did you view money as a child? Did you think of yourself as rich or poor?
When it comes to money, do you think there is never enough or that there is more than enough?
Other than giving to St. Andrew's, what other ways can you use your financial resources to promote human flourishing and well-being?